Anyone who has ever tried to end a phone call with an Irish loved one will know this closing salutation, usually echoed by your counterpart at the other end: "Bye bye, bye bye, bye bye…" (repeat until hanging up). It demonstrates clearly the Irish reluctance to end a connection, to close a conversation, to say goodbye.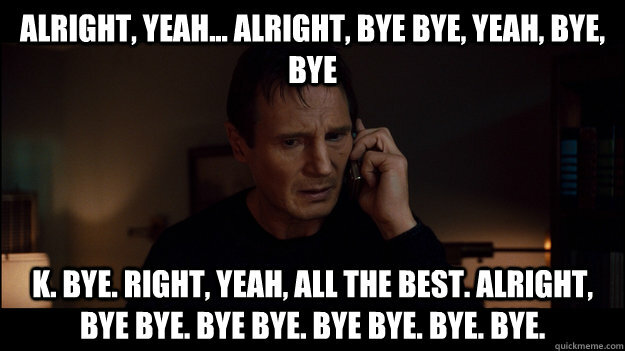 And so it is when one of us is departing to foreign shores. Ireland has a long tradition of emigration and departure – our diaspora are scattered to the furthest corners of the Earth – but it's still hard to let go of the homeland. It's harder yet for those left behind to say that final farewell.
I'm experiencing this now. Final meetings with friends and family are never described as such and so I find myself scheduling a further catch up, chat, lunch, tea, coffee, get together. There are leaving parties and goodbyes before final days in school, creche, work. An excuse to postpone the inevitable tough reality of the pain of goodbye.
Last night was one such goodbye night.
A catch up with my two closest friends, to be repeated again tomorrow night, over probably our worst meal out in years but with satisfying accompanying hilarious critique.
The night ended with a session in the Oliver St John Gogarty pub in Temple Bar, frequented only by tourists, stag parties and maudlin potential Irish expats and their friends (no other Irish people would pay €11 for a spirit and mixer!).
The trip to the (in)famous drinking house allowed me to sing Black Velvet Band, Whiskey in the Jar and I Still Haven't Found What I'm Looking For at the top of my voice alongside the Brits, Canadians, Spanish and Peaky Blinders wannabes.
Because I know those songs will become different when sung on foreign soil, in Irish bars where the antiques are made in China and even the Guinness isn't real. These songs will become layered with longing and loss.
When my dear friend Catherine played a request for her friend who was emigrating, the long goodbyes and my willing participation in dragging them out suddenly made sense.
I'm not just an expat, I'm an emigrant. I'm joining the diaspora. And it's hard to say goodbye.